Tommy and I went to Tulum to do videography for a wedding. My husband is the videographer, I am just the assistant and second camera. The reason this is a tale of two vacations is because our experience in Tulum was split. Between work and play, good and bad, beautiful and scary, relaxing and stressful.

In my earlier post about the amazing Hartwood restaurant, I spoke a bit about the two possible vacations that you could experience in Tulum. When we first arrived, we stayed in downtown Tulum. Almost everything in downtown Tulum is grungy and run down. We stayed in the Ginger Hotel which was in an extremely questionable alley. This is no exaggeration. There was broken glass, curious smells, and not enough lighting. While the courtyard and reception are pleasant, Tommy and I repeatedly compared the "room" to a prison cell. It was small, bare, and the bathroom door was made of metal. And just because I want to, I'll mention that we had no running water for our last night.
After two days of that, we moved to the Papaya Playa Project on the beach. Our accommodations were definitely an upgrade in some respects. The view was gorgeous, the room was significantly larger, and the hospitality of the staff was so refreshing (figuratively and literally as we were greeted with a cold glass of lemonade). But in other respects, I would still say we were "roughing it". Our part of the property stunk of the sea. Not the nice salty sea smell, the rotten fish one. Also, the hut is essentially outside. It doesn't really feel like you are indoors at all. And finally, we had both a scorpion and a centipede in our hut on the last night which was just horrifying. Ok end of tale one.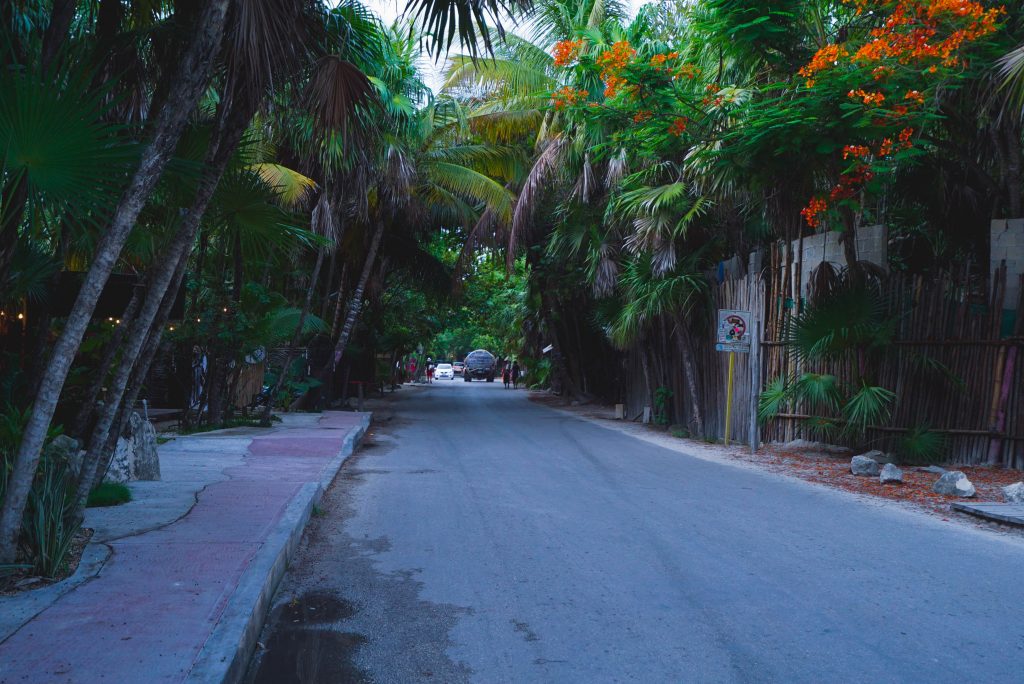 The other side of Tulum is beautiful, charming, tranquil. After we shot the wedding, we had our true holiday which consisted of lazily walking down the street and eating at the first restaurant that looked nice. And every single meal was amazing. Meal after meal for amazingly reasonable prices. One night we had excellent pizza with a cold bottle of Mexican Coke. For lunches we ate at our hotel restaurant which sat on giant steps leading down to the beach. Ceviche, shrimp tacos, chicken fajitas, all excellent and perfect beach food!
In Tulum, you are in a hot, humid, jungle. There's no point in trying to dress up, you'll just be sweating through your clothes within 5 minutes. But there's something so great about that. To think that everyone here is just trying to relax. Who cares what we're wearing, who cares if our hair is a mess, who cares if we're sunburnt, sweat dripping down our brows. And this might just be because I'm from Texas, but I love the heat. It feels like a warm hug everywhere. It also makes you feel lethargic, slow, lumbering down the tree lined road.
We took a trip to the Ruins which I have to say are no Machu Pichu. I've never been to Machu Pichu, but these are not really in the same category. The grounds were nice and we enjoyed taking photos so it was a worthwhile trip for us.
We had our ups and downs on this trip, but I can say that I would definitely go back. We feasted at Hartwood, we defeated a scorpion, we survived a night without running water before making the worthwhile move to the beachfront. We captured memories of a couple's biggest day, we captured some memories of our own. We sloughed off what seemed like pounds in sweat, but we had a great time! I know a lot more now and with some careful planning, I think I could make it a pretty dreamy vacation on a relatively low budget.
This was kind of my first pseudo "photoshoot" and all photo credit goes to my husband. He took the photos and I edited them.
Here are some places we enjoyed during our stay:
Papaya Playa –  we probably wouldn't stay here again because we'd like to be a little bit more protected from the elements but their restaurant is fantastic. Affordable, delicious, and beautiful spot to enjoy lunch on the beach.
Hartwood– Obviously.
Mina – A great italian restaurant that we stumbled upon one evening. They had an open fire that they were cooking on as their speciality.
La Nave – if you are in downtown, Tulum, not a bad pizza joint. But Pizza is common in this area and I think you might find better at Juanita Diavalo or Manglar Pizzeria.