The Quest continues at Rosewood Mayakoba in the Mayan Riviera. I have a few characteristics to add to the ideal of the perfect beach. It has bicycles. The carefree simplicity of riding a bicycle calls back to a bygone age. Riding a bike is presumably the alternative to walking when you want to get somewhere faster. The irony about biking while on holiday is that by definition, you don't need to be anywhere. And you definitely don't need to be anywhere faster. Which makes the riding of the bike completely and totally without motivation. Which is why it is my next characteristic for the perfect beach resort.

The Rosewood Mayakoba is a beautiful property wrapped around a lazy and winding canal. You are brought to your private villa via boat and met on the dock by your butler. Here's a shocker, the perfect beach resort does NOT have private butlers. Why you ask? Well because it's just a glorified front desk that bothers you all day. Perhaps people with more aristocratic backgrounds know how to fully utilize the service, but I did not see a way of making this "amenity" useful rather than a nuisance.
The rooms are everything you could want in a sanctuary to return to between the beach, spa, nature walks, and bicycle rides. It's your little home complete with a foyer, bar, coffee/tea station, sitting room, hulk-sized bathtub. Oh and let's not forget about the outdoor shower. Those should be more of a thing.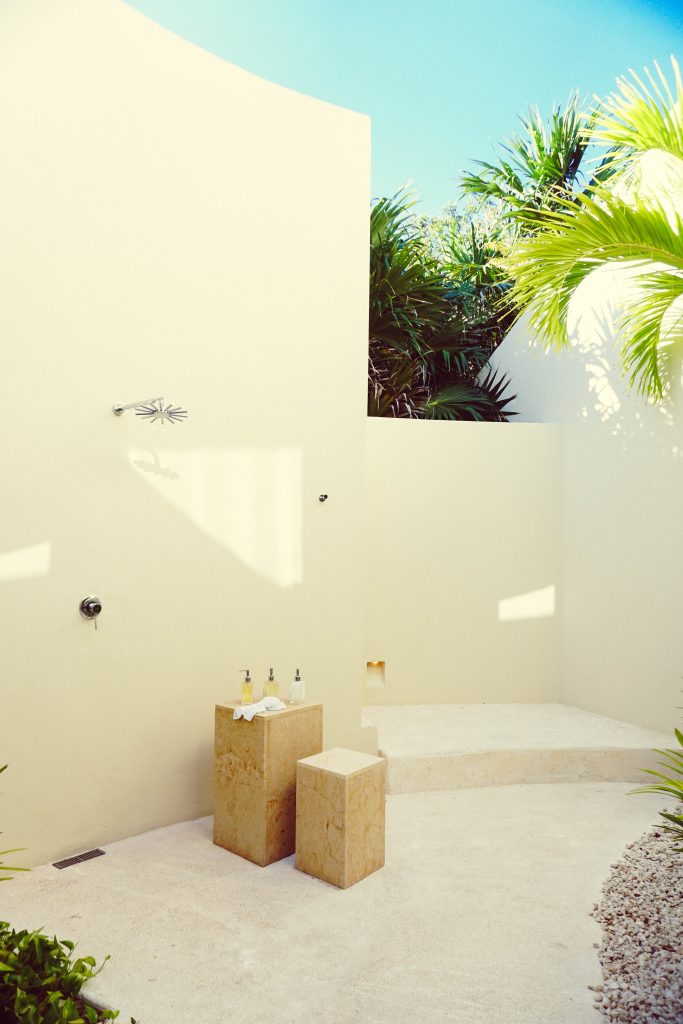 How is the editing on these photos? I know it's different but I was going for the hot, lazy, dessert look. Did it work? More photos around the property.
The food on property was on point. The breakfast was such a treat each day with fresh tropical fruits, pastries, cheese and charcuterie, and hot items to be ordered a la carte. Huevos Rancheros being the specialty seen here.
The beach is vast, lovely, and has fantastic amenities. Use of the canoes, paddleboards, and small catamarans were complimentary. And if you hang around on the beach long enough you'll enjoy a nice beachside cocktail, refreshing sorbet, the best sunglasses/glasses cleaning of your life, and other unexpected treats.
But more than anything, I could just waste the day away riding my teeny tiny bicicleta.