This is the amalgamation of all the decisions I've made over the last 6 months. It's the countertop, it's the appliances, it's the cabinets, it's the fixtures. And now it is a kitchen.
Who knows, maybe this will be one of those kitchens that circulates around Pinterest. To me, it is perfect.
Let's talk appliances. The refrigerator is this Kitchenaid. Choosing appliances is definitely a journey, and one that you will take no thanks to the internet as you can read in this previous post. Reviews are generally for disgruntled people and imaginary people. So either people who had such a terrible experience that they were compelled to write something nasty, or someone who was paid to write a review.
So our philosophy when choosing our appliances was choose the prettiest one with the coolest features that is the right price. This refrigerator features 5 doors. It is a french door refrigerator that features two more external drawers that can be adjusted based on what you want to put in them: produce, meat, etc. We LOVE our refrigerator. Granted, it has only been 3 weeks now but it's gorgeous, it has tons of space, and so far we have no issues with any of the features. Oh and I can't forget to mention the platinum interior. It is so much prettier than the typical white. We were in the right place at the right time and got this $3700 for $2500.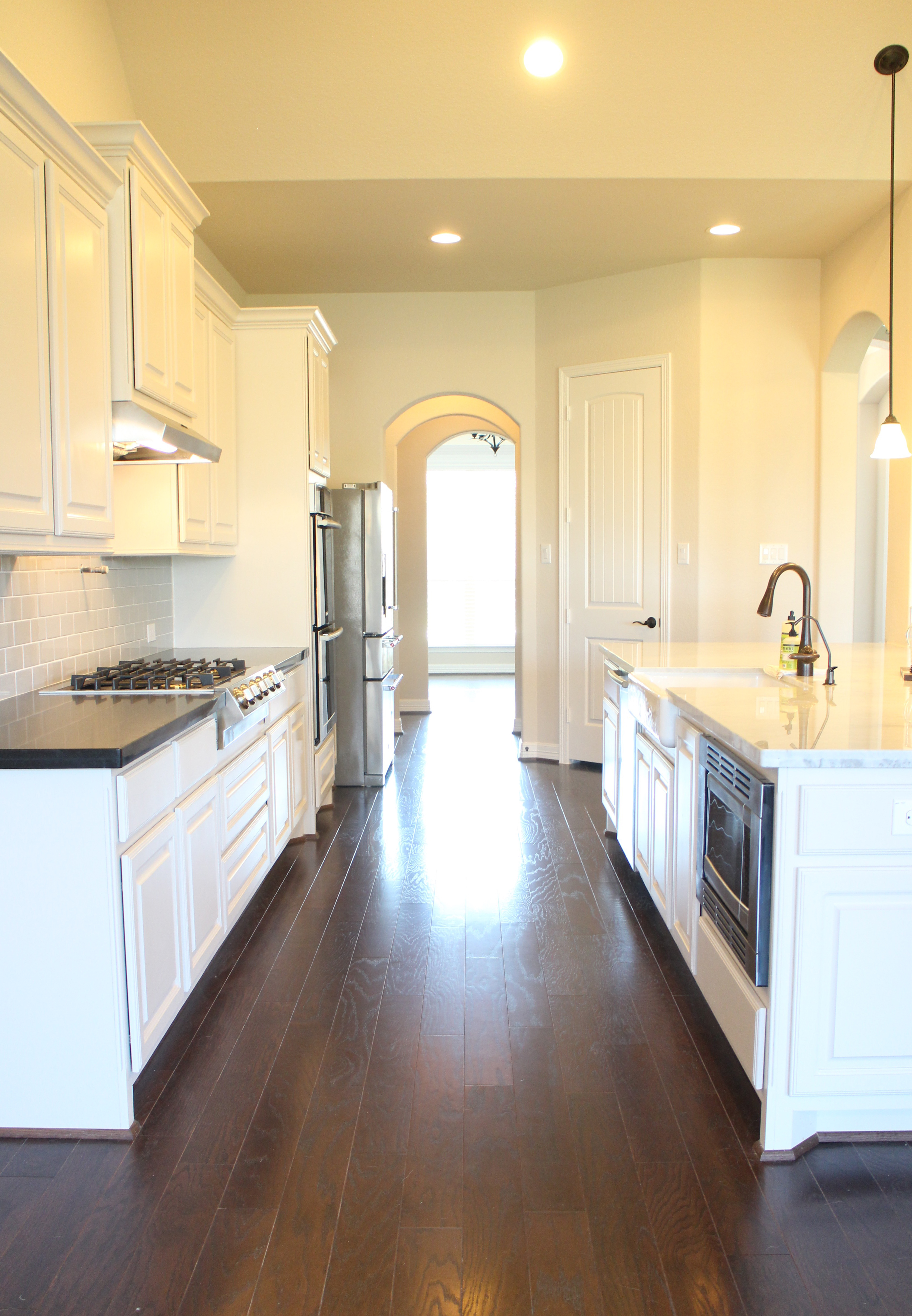 I'd like to point out the contrast of the countertops. I knew I loved contrast when I started pinning kitchens on pinterest. Whether it was light vs dark cabinets or light vs dark granite, I knew I wanted contrast between the kitchen and the island. You can see the whole process and detailed photos in Finding Your Perfect Slab but in short, we chose a dark, honed granite for the perimeter, and of course, Carrera Marble for the island.
This is also a really good shot of our hardwood floors. We absolutely love them. They are really beautiful with a lot of variation in the grain and the color is a rich dark brown. Here is the product if you are interested: Shaw Coffee Bean.
Having quality appliances makes a huge difference. This Electrolux Icon 36" Gas Slide-In Cooktop has two super high burners (marked by the gold rings) and works like a dream.
I have a few favorite things about these Electrolux Double Wall Ovens.
The gliding racks. So simple, so many fewer burns.
The oven light. It dims on and off so elegantly and lights up the oven so much that you can actually see how your food is cooking.
The flat glass door. There is a bit of a reflection, but you can see when I open the oven door, the inside of it is just flat sleek glass.
Convection. Convection bake just cooks everything better
The farmhouse sink was a must. Now the exterior of this bowl is much shallower than the actual bowl. Not sure why it is designed that way but it still has the farmhouse feel which is all I wanted.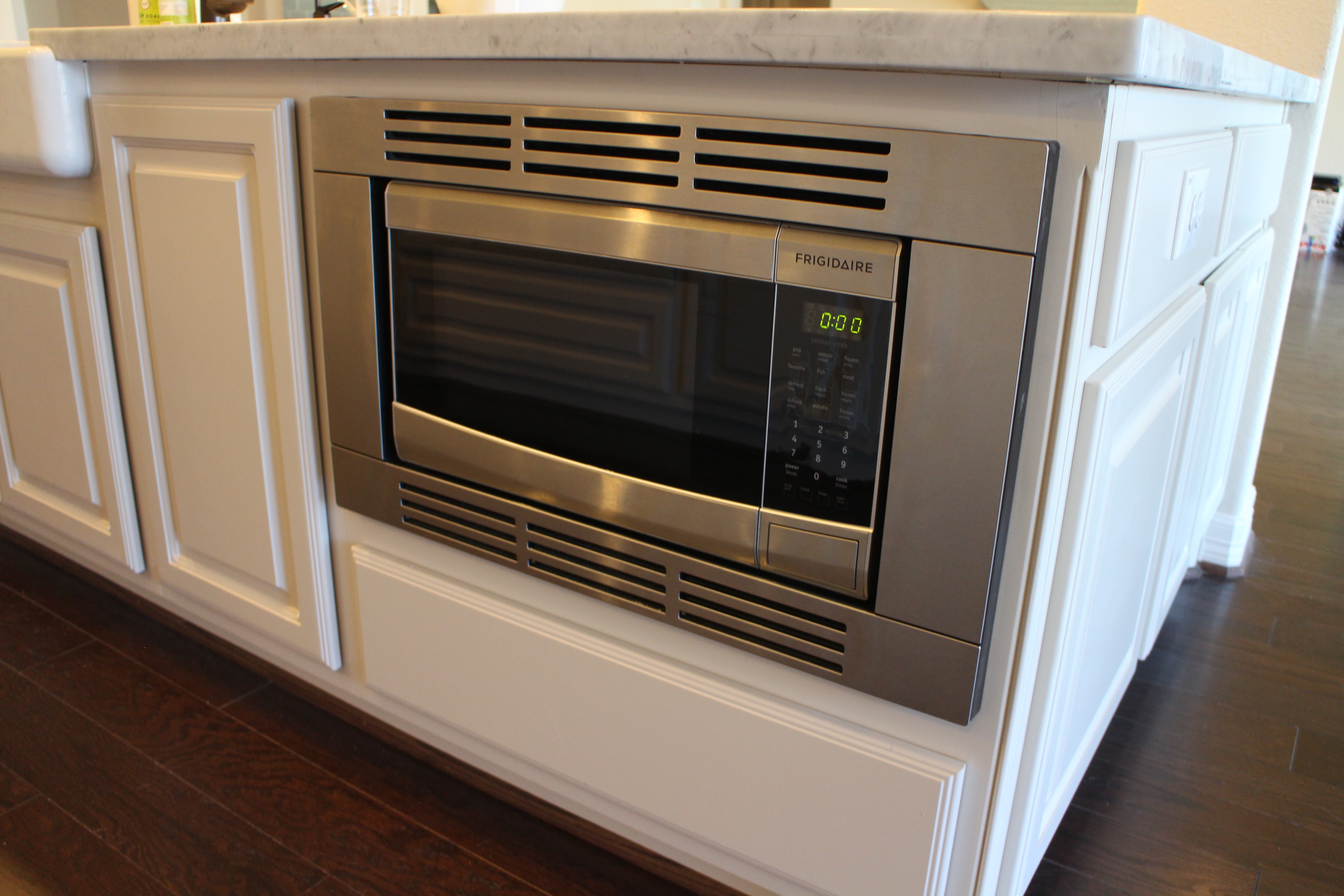 I just wanted to highlight the convenience of the microwave built in to the island. So much better than having an ugly appliance taking up precious counter space!
A few last items to mention. The pendant lights were a surprise as we didn't actually order them but they really bring the space together. And the grey subway tile backsplash was the perfect detail to complete our dream kitchen. And Koda loves it too!